ACHTERGROND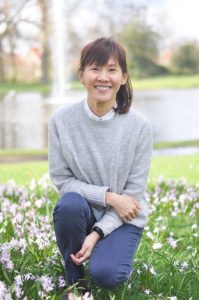 Mijn naam is Mong-Tam Le, geboren in Saigon (Vietnam). Met een Aziatische achtergrond is de Traditionele Chinese Geneeskunde voor mij niet vreemd.
Mijn interesse in acupunctuur is gewekt door een persoonlijke ervaring. In 2008 werd mijn vader op een ochtend wakker met een scheve mond. Geleidelijk kwamen er meer klachten zoals slaapproblemen, niet helder kunnen denken en hallucineren. Op advies nam ik mijn vader mee naar een acupuncturist. Tot mijn verbazing was de scheve mond van mijn vader genezen en het slapen verbeterd. Sindsdien heb ik me afgevraagd hoe het mogelijk is dat zulke simpele dunne naalden zo'n groot effect hebben op het menselijke lichaam en geest.
Uit nieuwsgierigheid en interesse ben ik begonnen aan de opleiding "Foundations of Chinese Medicine" bij Shenzhou Open University in Amsterdam. Hier heb ik ook "Acupunctuur" en "Foundations of Western Medicine" gestudeerd. Het was geweldig om direct van de Chinese dokters te mogen leren. Ook mocht ik delen in hun verhalen over acupunctuur in Chinese ziekenhuizen, waar deze genezingsmethode dagelijks samengaat met de westerse geneeskunde.